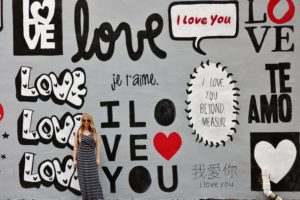 A couple of days ago, my husband and I decided to venture into town and try something a little different for date night. We are from Cypress, one of Houston's largest suburbs. Usually we do date night somewhere in the area because of convenience. But every now and then we like to play tourists in our own city! This time, we ended up in Harold's in the Heights. (Hover over their name to check them out!) If you are not familiar with Houston, The Heights is located just 10 minutes from Downtown and the Galleria.
Look at how perfect their LOVE wall is! You may have seen it a time or two. Love is the universal language understood by all! So fitting for a date with your significant other or brunch with girlfriends!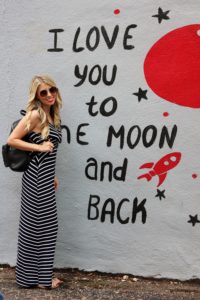 Okay enough about their wall murals! Let's talk FOOD!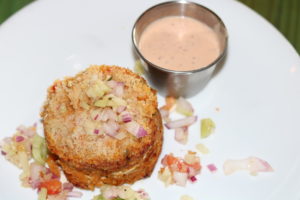 The restaurant offered a unique blend of Southern and Creole cuisine. It seemed ideal for brunch, lunch, dinner, or happy hour! Upstairs, they have their Tap Room that offers cocktails, wine selections, and beers, which we will have to come try another time.
I went with their Mirliton Crab Cake: prepared with mirliton squash, crab meat, bread crumbs, Parmesan, and remoulade sauce. It was delicious! I may have cleaned the plate on that one!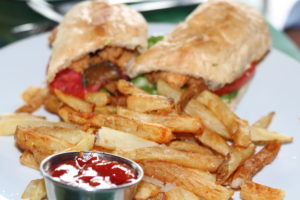 My husband went with the above: the Local Gulf Seafood Po'Boy with hand-cut fries. I had a bite of the Fried shrimp and seafood and it too, was delish!
Harold's food was flavorful and unique! Definitely not your typical chain food. We loved it!
After dinner we ended up strolling down some of the Heights shops, meanwhile burning some calories. YES!!!
Stay tuned for more of our Houston food adventures!
Any recs on where to go next? Comment below!
Thanks for reading!
Love,