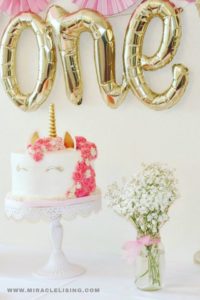 Birthdays mean milestones. And for parents, milestones sometimes translate as expensive birthday parties! When planning for a birthday, it is important to set a realistic budget!
Birthday and party planning is one of my favorite things to do as a mom! I love decorating and putting my creativity to test!
What makes it challenging is setting a budget and actually sticking to it!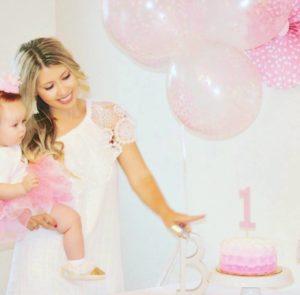 A couple of days ago, we celebrated Brynn's 1st Birthday! Some of the pictures you'll see on this post will feature her magical day!
I have been party planning on a budget at least twice a year now for the past 7 years! From our very first House Warming Party, my son's themed birthdays, to my Mom's 50 and Fabulous Celebration! And the one thing all of our parties have had in common, is the joy they've brought without having to spend a fortune!
With that said, today I am sharing with you how to throw any party on a budget!
1. It's all in the Planning!
I usually begin planning at least 6 weeks to 3 months before the birthday. And of course if your party is bigger I would start at least 6 months in advance. During that time, create a Pinterest board to get ideas and get organized.
Here's a preview of the Pinterest board I saved to gather ideas for Brynn's Magical First Birthday. See below for a snapshot of it! Follow my Pinterest page for ideas on birthdays, style, recipes, decor, and more!
Planning in advance allows you to start looking online for cheaper deals. Amazon and Etsy are my go to places! Brynn's "one" balloon was an Etsy treasure and I got it for less than $10 including shipping.
I looked at some big tassel balloons that are trending, and the price tag on them was a little ridiculous if you ask me. $30 for one big PINK balloon that we know will last maybe 2 days with kids. No thanks! Bargain shopper here was not settling for that! This one did the job!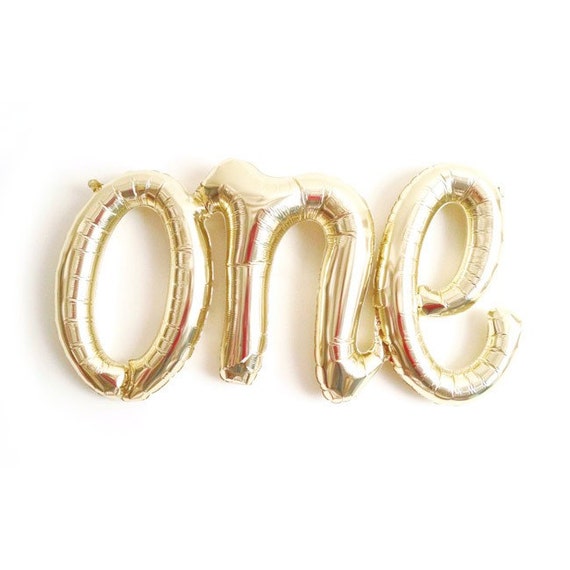 Amazon's so good about their prices on just about everything! For Bryce's 6th Bowling birthday, I purchased the cutest party favors for about $1 each! The plates I made into bowling balls by die-cutting circles and hot gluing them on the corner.
Again, planning is everything! Make sure to allow yourself ample time when planning a party. It will save you money!
You don't want to leave things to the last minute and end up spending more than you have!
2. Home vs. Party Venue
Next, you need to decide whether you want to host the party at home or at a party rental/venue. I have done both and I can not say that "home is cheaper" because it really depends on what you decide to do at home for your entertainment and food.
For Bryce's 6th birthday we decided to do something a little different and had it at Tomball Bowling. Such a fun party place and inexpensive compared to any other bowling alleys in town. Location is everything! Look at this happy birthday boy!
Typically a home party, planned right, can be inexpensive.
For both of my kid's first birthdays we have done them at home. When they're that little all they need is a cake, food, and family. Perfect party! No need for big bounce houses. They are always a party perk but not necessary to entertain. Staying mindful about your budget is super important!
For Brynn's 1st Birthday we did a very low key but memorable birthday: mostly family, food was beef nachos, Chick-Fill-A nuggets, fruit, cake, homemade cupcakes and raspberry lemonade to match our baby pink theme. Happy Baby, Happy Mommy!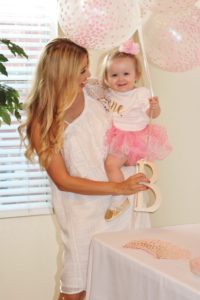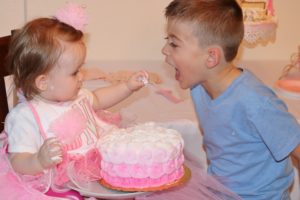 3. Choose a Theme
Choosing a theme helps bring focus to the party. Also use 2-3 colors to convey your theme! You can see that for Brynn's 1st Magical Birthday I stuck to some of my favorites: light pink, white, and a pop of champagne.
This beautiful cake was made by my talented cake decorator of years! Patty always does a great job and home bakes her cakes from scratch! If you live in the Cypress South area, she will also deliver for free!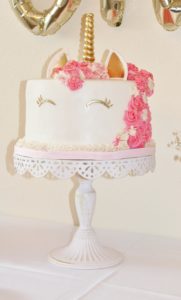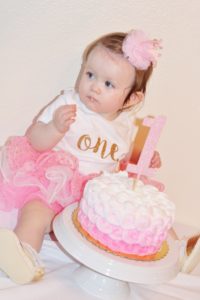 Remember, your theme does not have to be branded. Ex: If you would like to throw a Frozen Party, not everything has to be Elsa, Ana and Frozen. In fact, decor looks classier and more creative when you don't have everything branded.
4. Get Creative! (More means Less)
Use what you already have-from previous parties or even home decor that can be turned into party decor! I do this a lot!
Here you can see, I turned the same chalkboard Bryce was holding to announce he was  being promoted to big brother, into a party decor staple!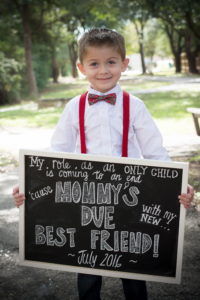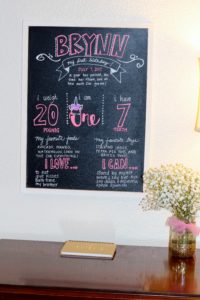 Creativity can save you money! Just do a little out-side-the-box thinking!
For my Mom's 50 and Fabulous Celebration, my sister and I crafted some DIY Glitter Mason Jars that I have been reusing for other parties, including Brynn's 1st! My sister and I had fun creating this, without letting Mom know, as her party was a surprise!
Thankful for this tutorial that helped create magic at mom's 50th!
Look at how cute Mom is!
Our Queen!
We also spray painted this CHEERS decor that I had in my home office. I now use at almost every party! Gold spray paint is the best you guys!
I made Brynn's goody bags thanks to Pinterest inspiration! They were so fun to make and very inexpensive!
Hobby Lobby was my go to spot for the materials.
Check them out!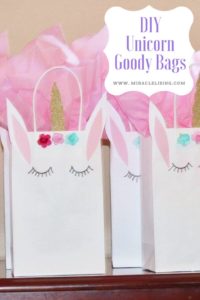 Materials:
White Goody bags from Hobby Lobby or Party City (they come in a set of 10)
white and light pink cardstock
scissors
gold glitter cardstock
mini flowers from Hobby Lobby
tissue paper
glue stick
5. Last but not least-Set Reasonable Expectations!
Kids will be kids! And adults will be adults! Things won't ever go exactly as planned.
The good thing here is that your reasonable budget has been met by this point and you don't have to worry about having to pay off that next credit card bill just for a one day event!
And a very important pointer: Give yourself grace because it is not easy to party plan, host, and go on about your busy daily life!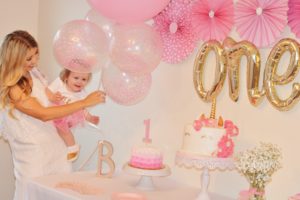 Hope you found some of these party tips helpful on planning a birthday on a budget!
Now on to planning your next party! 🙂