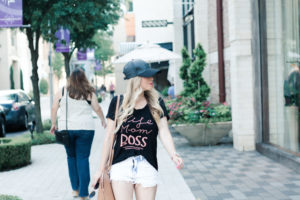 Tee | Shorts (similar) |Hat, Handbag (similar)
The older I get, the more I look for comfort in style! If I'm spending any money on clothes, it better be affordable, cute, and comfortable! For that reason I am in love with Charming Charlie's graphic tees. While shopping for some summer accessories, I stumbled upon their collection of graphic tees that scream comfort for only $15! (Click on the pink links to directly take you there!)
They had a lot to chose from! Some of them read "Coffee Keeps me Going Until it's Time for Wine,", "Tequila es mi Amigo," and "Don't Mess with Momma Bear."
Their super-soft Tees are great for running errands, athleisure, and just lounging at home. I paired mine with some of my favorite distressed jean shorts (similar) and nude lace-up sandals. The tees fit true-to-size, are fitting in the sleeves and bust, and loose in the torso and waist!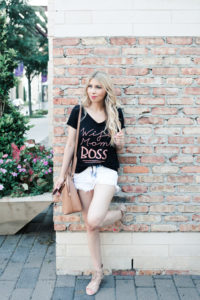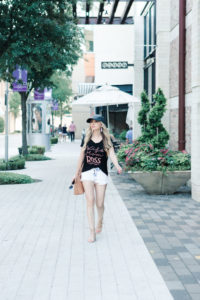 I have to say that although this is such a casual look, I felt like I dressed it up just a bit by adding my favorite Francesca's find: the black baseball cap and Bauble Bar tassel earrings. 
By the way, Target has paired up with Bauble Bar and they have some adorable earrings that SUGARFIX by Bauble Bar has for a portion of the price! I bought 3 pairs online but they have a great collection in stores too. I will be purchasing more!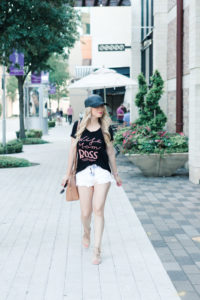 In this Texas sun, I can't go anywhere without sunnies! I picked up these sunnies (similar) for the perfect price of 2 for $15 at Charming Charlie's! With two little ones, I can not invest on expensive sunglasses.
Brynn, my 1 year old, loves to take things out of my purse and dump them on the floor. I let her, simply because it entertains her, and it's funny to see how much that amuses her! She does this with my make-up bag too! Empties it all out until she gets to the lipsticks! She's discovered how to open and close them! Such a girl!
She has gotten a hold of my prescription glasses and completely stretched them out, to the point of where now I need to take them to get adjusted. So that's where it doesn't get funny anymore! Affordable sunnies that do the job and have UV protection is all I need!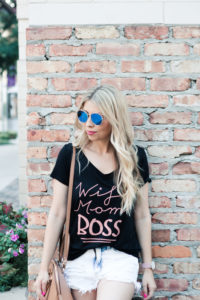 Thank you for reading! I hope this super casual look has inspired you somehow! 🙂
Happy Shopping!