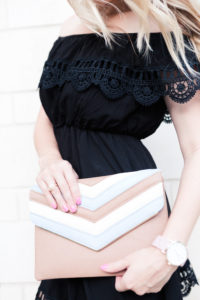 Dress| (similar)| clutch (similar)| watch
Who says you can't wear black in the Summer?
I am sharing with you one of my favorite little black dresses along with other similar looks,
that are super airy and can be worn all Summer long! Or what's left of it!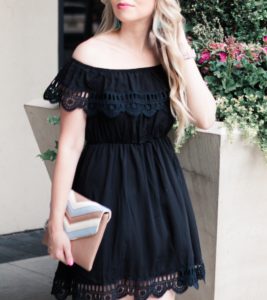 This off-the-shoulder-crochet dress is a summer staple because it's simple and effortless to just throw on!
It's not restricting in the shoulders either. Comfort and simplicity in style is big to me!
I got it earlier this Summer from one of my favorite online shops- Shein. 
If you've ever shopped there, you know their deals are delirious!
And of course the more you order, the more you save.
You also receive 10% off your first order as a new customer.
I am linking an almost exact dress that is on sale at the moment.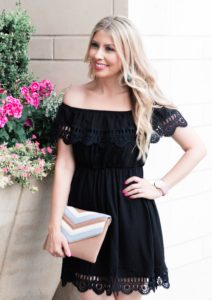 The good thing about black dresses is that they can hide so much!
Black is always slim fitting, and it can be paired with almost anything-
wedges, sandals, your favorite heels, or kicks!
The beauty about dresses and rompers is that
they don't require much styling or accessorizing since they are ready-to-go!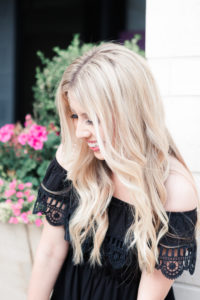 Blushing over the delicate shoulder details!
One thing you'll learn about me, is that if I can find a whole outfit for less than $50, then I'm sold!
I am one happy Momma when it comes to snagging a good deal! 🙂
SHOP THE LOOK
I have linked some similar styles for you to look at and shop! I have my eyes on that sleeved-romper next!
Thank you for reading!
Do you have a go to "little black dress?"
Which of these is your favorite?