As a full-time mom, full-time teacher, and full-time BUSY, it's hard to find time to play with make-up! Somehow, in the midst of chaos and a baby, I am still a believer of looking my best in order to feel my best!
Yes! I'm talking beauty sleep first, ladies-it is so crutial! I usually get an average of 6 hours of sleep a night, which I know is not enough. Getting a full 8 hours of sleep with a baby, that is still co-sleeping, is luxury talk! As women, we tend to multi-task a whole lot more than men do. For that reason, our brains are constantly working and bodies moving. The more you exercise your brain, the more sleep you need, so 7-9 hours of uninterrupted sleep is GOALS- one day!
If feeling my best means waking up 15-20 minutes earlier to put on a light coat of foundation, blush, and mascara, then I'll do it. (Lipstick is always on-the-go, so that means in the car, right before arriving. Looks fresh and stays on longer that way. Or so, I like to think!)
So, let's talk rose gold!
pretty…
feminine…
trending…
and definitely one of my favs.
Today I am sharing with you some of my favorite rose gold beauty products that simplify my life and keep me feeling fresh!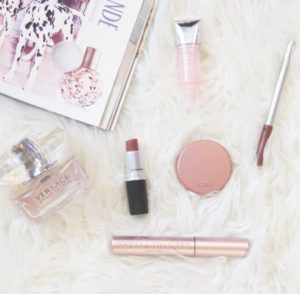 ---
1. MAC Lipstick Satin-Faux – This is my every-day-go-to lip color-Faux. It comes as a muted-mauve pink with a creamy texture, and satin feel. If you like medium to full coverage this is your lipstick! Looks so natural and matches with any outfit. I like to add a gloss over the lipstick to change up the look. (See towel picture below of Faux+Gloss)
TIP:

Don't forget to save your empty MAC containers. Once you get 6 containers (any kind of MAC product), then turn them in for a free lipstick!  Just take your empty containers into a MAC makeup counter (at Nordstrom, Macy's, Dillard's stores), hand them over, and tell them what lipstick color you want. Easy peasy!
2. Tarte Clay 12-Hour Blush-Paartay– I received this blush from Sephora as my birthday gift, for FREE this month! I feel like I love it even more because it was a free gift (priced at $29). This blush is nutrient-rich and leaves a flawless finish that lasts an amazing 12 hours!
TIP:

If you haven't already, sign up for Sephora's Beauty Insider Rewards to start saving for your next FREE beauty fix!
3. Too Faced Better-Than-Sex Mascara – Okay, the name says it all! My sister gave this mascara for Christmas and I have to say I kept buying it for a reason! I am very picky when it comes to mascara, because my eyelashes are so long but thin. And believe it or not, some mascaras will thin them out even more. That was not a problem for this one-it did the job-volume, length, in 2 strokes!
4. Versace-Bright Crystal– This little eau de toillete has lasted me a while! A little goes a long way. Smells floral and fruity-but not too strong!
5. Urban Decay Naked-Ultra Nourishing Lipgloss – There are days that lipstick just won't do it, and I need something a little more hydrating. I love UD Naked palettes, and this gloss is it too!
6. Maybelline- ColorSensational Lipliner– Drug store find! YAY! You can find it at your local Walgreens, CVS, HEB, Kroger! Can't beat a $7 lipliner!
---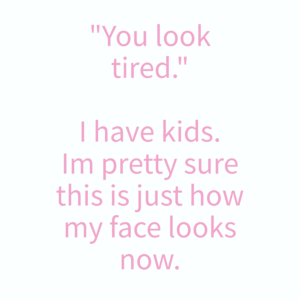 Raise your hand if you have gotten this before!
And if you're not a mom, I'm sure you can substitute kids with "It's called adulting!"
Thank goodness for beauty products!
Hope you had fun looking through these product highlights.

 Be You, Beautiful!
Love,