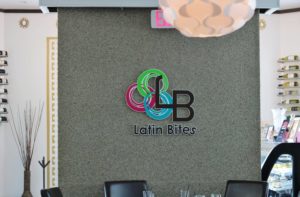 Empanadas, cebiche, arroz con mariscos…ay que rico! One of my favorite things to do as a Latina from Houston, is try new foods from different countries in our culture!
Today, I am sharing with you one of my favorite Houston eats and participants of Houston Restaurants Week: Latin Bites. Latin Bites is a family owned and operated restaurant, inspired by the exquisite South American and Peruvian cuisine. Latin Bites is known for "Houston's Best Ceviche," and has been recognized as Houston Chronicle's Top 100 Restaurants (2016), making it to the top 25!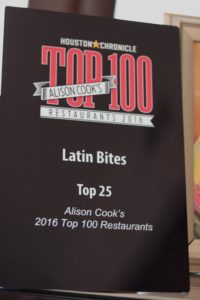 Let me take you on a virtual tour so you too, can taste the unique flavors rooted in culture, Latin Bites has to offer!
Upon arrival, my sister and I were greeted by their friendly staff! My eyes wandered on the white space and modern decor, that gave the room style and elegance! Their style is intended to inspire communal dining, and dishes that consist of a blend of simple, seasonal, classic, and adventurous dishes. You dine, talk, and laugh while experiencing more flavors than with traditional entrées. Take a look!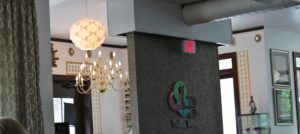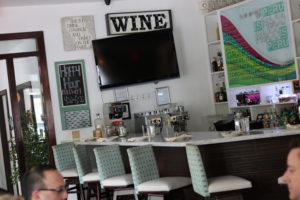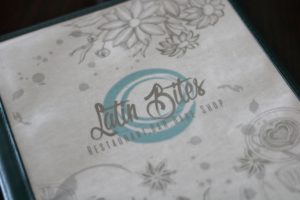 We started off with…
their delicious home made bread and butter (pan frances hecho a mano).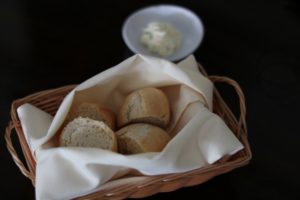 Followed by our Appetizers:
MIXED GREEN SALAD (V)
seasonal greens, tomatoes, almonds, queso fresco, golden raisins, crunchy onions, passion fruit vinaigrette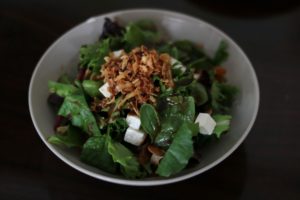 I have to say, that as a salad lover, this one made my top list!
The passion fruit vinaigrette was sweet and tangy, just what it needed!
 TEQUEÑOS
home-made Venezuelan style cheese sticks served with avocado aioli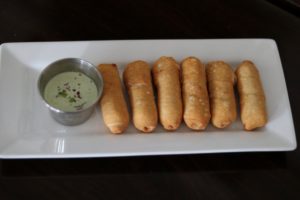 My sister's favorite for sure! What I liked about the TEQUEÑOS was that they were not greasy at all!
They paired perfectly with the avocado sauce.
Our Entrees consisted of:
AMAZON CHICKEN
airline cut chicken marinated in aji panca sauce served with roasted organic baby carrots, fingerling potatoes and white rice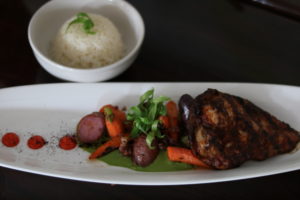 The Huacatay Sauce (green sauce) is made with evaporated milk, crackers, and Huacatay which is a black mint from Peru.
If you prefer protein and flavor, this is your go to plate!
As a pasta and tomato lover, I went with the following:
PORTOBELLO MUSHROOM RAVIOLI AL PESTO (V)
portobello ravioli in a spinach and basil creamy pesto with a drizzle of basil-huacatay truffle oil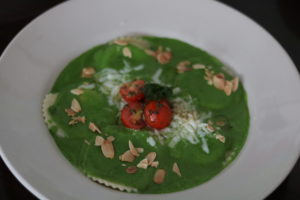 The green sauce is a creamy spinach and basil pesto sauce and has a drizzle of basil-Huacatay truffle oil.
It tasted cheesy, creamy, and delicious!
Are you getting hungry yet?
We thought we were full, until this postre came to our table!
Delicioso!
My all-in-all review: Phenomenal and unique South American flavors that will not dissapoint! 🙂
Thank you for having us!
Here is their Houston Restaurants Week lunch and dinner options. See their Menu online.
Lunch
$20 PER PERSON
Restaurant will donate $3 to the Houston Food Bank from each lunch sold. Food Bank will provide 9 meals from this donation. Available Monday through Friday
Vegetarian (V)Vegan (VG)Gluten Free (GF)
Dinner
$35 PER PERSON
Restaurant will donate $5 to the Houston Food Bank from each dinner sold. Food Bank will provide 15 meals from this donation.​ Available Monday to Saturday.
*Latin Bites – Quedamos encantadas y llenas con toda su comida deliciosa!
Muchas gracias por tenernos en casa, pronto volveremos! ~Millie y Wendy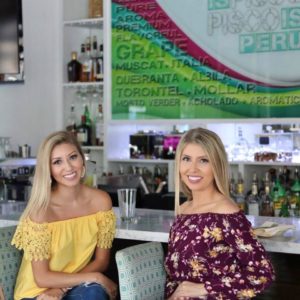 Thank you for venturing along! What do you think?
Latin Bites for dinner tonight?
"Dine out and do good!"