Fresh Mango Salsa
Servings: 6
Difficulty: easy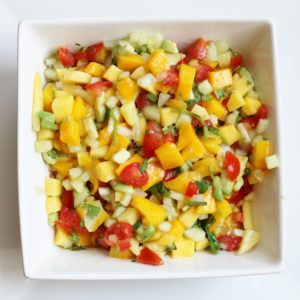 There is something to love about a mango salsa! It is colorful, sweet, fresh, and super easy to make! Growing up, we would get our mangoes in bulk from the marketa on the Northside of Houston. If you're laughing right now, it's probably because you remember the big mangoes con chile on a stick too! If you're not familiar, I'm talking about the big open farmer's market where all produce is ridiculously cheap and OH so tasty! Unfortunately that's way across town from me, but these mangoes are from HEB and they always turn out sweet!
Serve your mango salsa with chips, on fish tacos, fajitas, salmon garnish, or as a salad alone with your preferred source of protein! My mouth is watering just thinking about it!
I did not add peppers to my salsa as I wanted to share it with my mango-lovin' baby! But you can certainly add Jalapenos to add that extra picante flavor!
Ingredients
2 large mangoes (ripe)
1/2 of a large cucumber
a handful of cherry tomatoes
2 Tablespoons of fresh cilantro
2 Tablespoons of white onion
1 small avocado
1 small jalapeno pepper, seeded, and minced
2 fresh limes
1 tsp of olive oil
salt and pepper to taste
Instructions
Finely chop and dice all ingredients.
Combine all ingredients in a bowl.
Add the lime juice and olive oil, toss well.
Season to taste with salt and pepper
* You can eat right away or refrigerate for at least an hour to let all the flavors blend well.
www.miraclelising.com
Buen Provecho, enjoy!