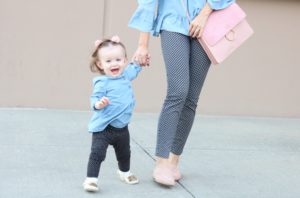 When the girls go shopping, we leave the boys at home! That is exactly what Brynn and I have started doing on Sundays. Because why not? I've said it before, and will say it again: I have always dreamed of having a real baby doll, that I can take shopping, to the nail salon, and twirl in fancy tu-tu's with! Because football, baseball, and now… basketball can wait in our world! 🙂
This particular Sunday, we went for a quick trip to MAC and Buy Buy Baby, dressed in our matching baby blue blouses and polka-dot skinnies. Accessorized by these suede pink mules and my newest bag, I've linked below. We wore this same outfit for church and decided it was too cute to change out of it-so we didn't!
We met my sister and Mom at Buy Buy Baby and went shoe shopping for Brynnie. Yes! IT TAKES 3 OF US with this cutie! At 15 months, exploration is her jam! And you better be ready for some episodes of sweet trouble and tantrums! (I will be blogging about that one later!) As you'll see, these pics were almost impossible with her!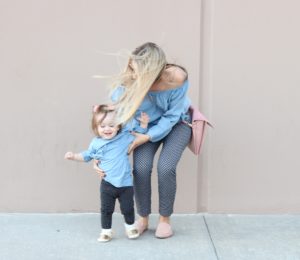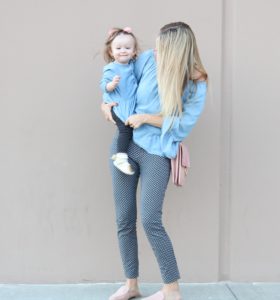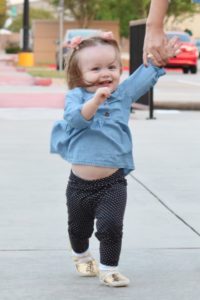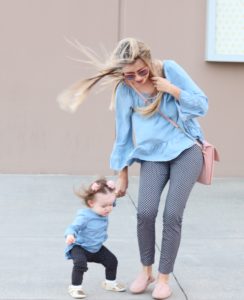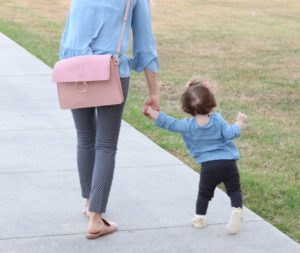 I've been asked if I shop particularly for us when I post matching Mommy-and-Me outfits. The answer is no-only sometimes, when it comes to graphic tees and such. For the most part baby/toddler fashion has similar fabric colors and styles now that it makes it super easy for us to coordinate our looks.
And we don't match on all of our outings, because the reality is, when I run errands Saturday afternoon, I stick to my momiform of yoga pants, a comfy tee, and my favorite Adidas kicks-paired with a  "no-make up hungry-for-sleep" look!
SHOP OUR LOOK:
Swooning over these suede pink mules! I bought mine from TJ Maxx/Marshalls, but I have the biggest crush on these too! The older I get, the more I look for comfort in shoes, especially after a long day of being on my feet teaching. These mules definitely exceed in comfort!
My pink cross-body bag I bought at one of my all-time-favorite stores- Target! Click on the pink link, and it'll lead you to a very similar crossbody. But if you are set on the one I have, go to your nearest Target, and pick one up! It is also suede and perfect for any occasion!
Thank you so much for reading about our shopping adventures!
Stay tuned for more Mommy and Me looks!