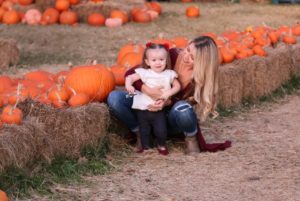 Every year it is a family tradition to drive out to a local pumpkin patch and do the whole Fall thing: hay ride, kid's activities, pumpkin picking and pictures…lots and lots of pictures! This year with our recent move and time being so thin, we kept it low key, and headed to a local church pumpkin patch instead…midweek! Yes! Call us crazy, but it was so worth the hour we were there!
If you follow me on Facebook or Instagram , you probably know I am one of those moms who takes waaaaaay too many pictures of her kids. I can't help it! They're only little once and I want to document as much as I can from their childhood.
One thing I could take more photos of, is my children with me. I want them to be able to look back and see how I looked when I was younger (even if skinny jeans and big sunglasses causes them to laugh a little). I want them to see the way I looked at them with love,  and see how much fun we had together! That's why I love the idea of "Mommy & Me" Fall photos. Yes, you can take pictures any time of the year, but Fall is so serene and beautiful, with natural organic colors, so you have the perfect backdrop all the time.
Taking pictures of them at the patch was the most challenging thing ever-it usually is! Brynn is a free-spirit explorer, and will not keep still for a picture, and then Bryce, he's a boy and simply does not like taking pictures. I am not kidding when I said I may have taken 243 pictures, to only get 5 good ones! Hope you enjoy the ones that turned out semi-good! 🙂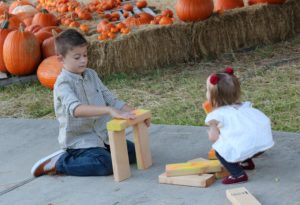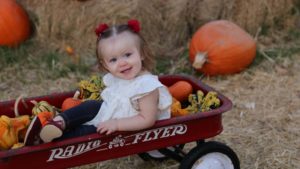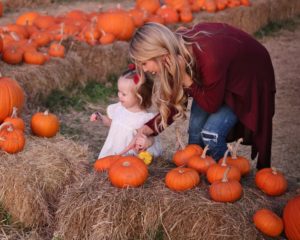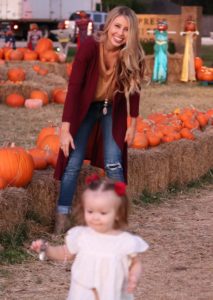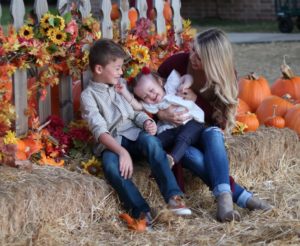 P u m p k i n    L o v e
It was so cute to see Brynn as excited as Bryce was! She picked up apples, ate one while taking a picture, and did not want to leave! She also showed a preference in the book station. She is all about reading books right now, and that's exactly what she wanted to do at the pumpkin patch, read!
Bryce was building the mega blocks, and had fun recognizing all the painted pumpkins as different movie characters. Their pumpkin love is the sweetest, ya'll! At 5 years apart, I was worried that they wouldn't be so close, but their love is the kind of sibling love you see in movies. They fight, rough house, wrestle, but at the end of the day, they have each other's back. It's so funny because Brynn is already the girliest girl and Bryce, well Bryce is all sports, you can imagine how he is!
Here's how it usually works. Brynn will make sure to tell Bryce to pick up his shoes. She can't put together sentences yet but will non-verbally motion for him to clean up his mess. Such a smart girl!
As goofy and playful as Bryce is, he will also look out for her if he senses trouble. She's a little toot, and will try to sneak anything and everything inside her mouth or the outlet. I am convinced that I am one very lucky, "Mombie"–a sleep deprived working-mom who feeds on caffeine and survives on sticky kisses and messy smiles, and I wouldn't have it any other way!
Thanks for joining us on our Pumpkin Patch adventures,
Happy Fall Ya'll!